Umbilical Testing, Monitoring and Commissioning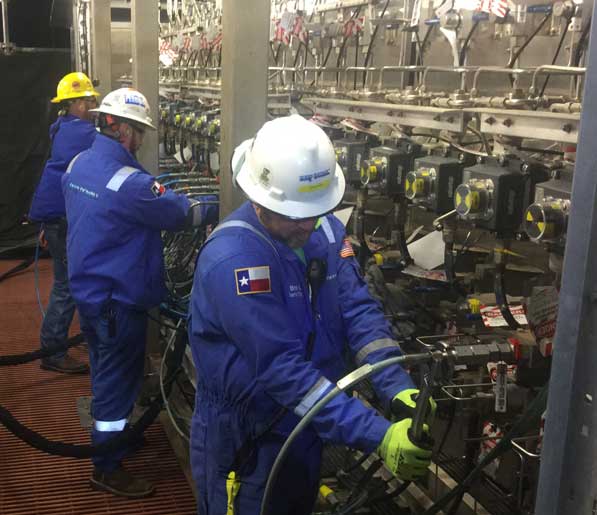 Hydraulic, Electric and Fiber Optic Testing Capabilities
We've been providing umbilical testing, monitoring, topside connections and commissioning services since our inception in 1997. Having manufactured, tested and installed hundreds of thermoplastic hose and steel tube umbilicals, jumpers and flying leads, we possess the equipment and experience necessary to complete the most demanding testing and commissioning requirements.
Our services include pre- and post-loadout testing, monitoring during installation, and final commissioning. Factory Acceptance Testing (FAT) can also be performed at your desired location or at our facilities in Houston, Texas or Mobile, Alabama.
Our commissioning teams prepare detailed procedures and identify potential hazards prior to arriving on site. Once on location, we work with platform personnel to increase efficiency, reduce downtime and ensure success.
Hazardous chemicals used in commissioning in the offshore energy industry can present a serious threat to personnel.
Koil Energy has experience with safely handling these chemicals, including:
Alcohol
Methanol
Asphaltine Dispersant
Oil-Based Control Fluid
Corrosion Inhibitor
Paraffin Inhibitor
Diesel
Water-Based Control Fluid
Glycol (100%)
Xylene
Our experienced teams use revolutionary pumping systems and proven equipment to provide flexibility and maximize efficiency, making us your contractor of choice.
Leverage our expertise