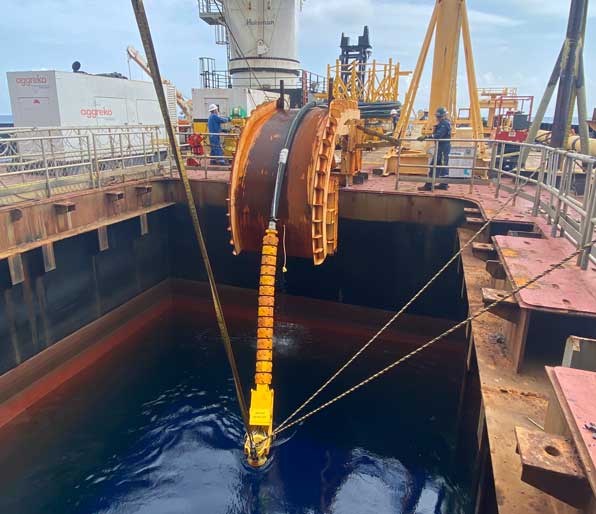 Uniquely engineered solutions
We have a history of delivering innovative and unique products to our customers. Our broad experience working with flying leads is what led to the creation of our flagship product, the patented LSFL® (Loose Steel Tube Flying Lead).
Our line of Flying Leads includes:
Hydraulic Flying Leads
Bundled/Jacketed Steel Flying Lead
Loose Steel Tube Flying Leads
Electric/Steel Flying Leads
Electrical Flying Leads
Optical Flying Leads
Featured Products
Loose Steel Tube Flying Leads (LSFL)
Koil Energy is a leader in the design, manufacture and installation of steel tube flying leads. Our flagship product, the LSFL® (Loose Steel Tube Flying Lead), was developed to eliminate the residual memory left in traditional flying leads due to the bundling process. The loose lay of the tubes significantly reduces stiffness of the assembly and allows the bundle to lay flat on the sea floor to follow the prescribed lay path precisely. The LSFL can also bend in a tight radius with minimal resistance and offer maximum compliance for easy makeup in lengths up to 1,000 feet. We also offer hybrid LSFL® assemblies which can include any number and combination of electrical, optical, hose and steel tube elements. Hybrid LSFL® technology provides installation savings in both time and money as fewer operations are required to install the combined unit.
We employ the patented Moray® termination system on each end of the LSFL®. The Moray® termination is a lightweight, high-strength, configurable and field serviceable framework used to connect any commercially available MQC (Multi-Quick Connect) plate to the LSFL® bundle. The Moray® termination assembly allows the installation load from the steel tubes or strength member to be transmitted directly to the framework and through to the installation rigging while isolating couplers from the load to maintain maximum compliance. The Moray® termination with compliant section is ideal for umbilical end terminations; it eliminates the need for bulky armor pots and is more manageable than a traditional umbilical end termination. In this application, the Moray® termination can be used to house multiple electrical, optical and auxiliary hydraulic interfaces in integrated ROV panels. Moray® termination assemblies can be outfitted with integrated buoyancy, allowing quicker installation times by eliminating the need to recover buoyancy modules. Additionally, this allows for the use of a smaller class ROV on a vessel of opportunity should the need for rework arise.
Koil has been involved in the umbilical flying leads industry since its inception and has pioneered the development of the LSFL through cooperation with operators and industry partners. We've supplied LSFL based flying leads for over a decade without a failure.
Guarantee your performance