Subsea Distribution Systems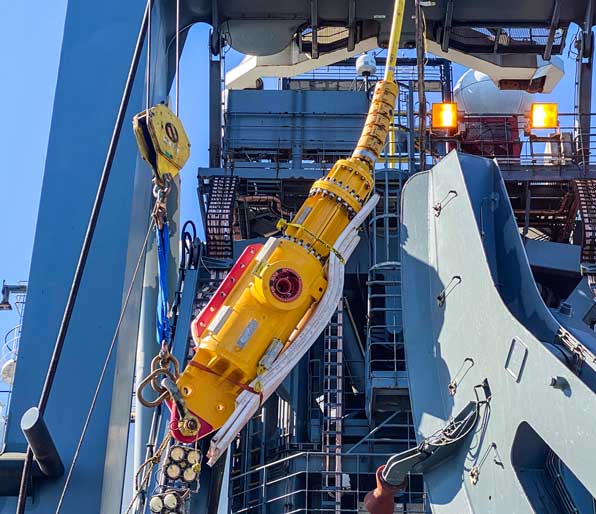 Robust Designs for Reliability
Subsea Distribution Systems are the tentacles that connect subsea developments to topside facilities and/or other developments. Control, well injection, or sensor functions can be routed through the Subsea Distribution System which serves as a network of point-to-point communication. Signals can be split, combined, boosted, or regulated as necessary to achieve the connection required. Subsea Distribution Systems are robust in design and planning to provide the highest levels of safety and environmental protection, flow assurance, and reliability.
Subsea Distribution Systems typically begin with an umbilical routed Topside to Subsea that contains hydraulic, electrical and/or fiber-optic elements. The umbilical has terminations on either end which allow for the safe handling and connection once installed. Hydraulic Multi Quick Connection (MQC) plates and electrical bulkheads fixed to the Subsea Umbilical Termination Assembly (SUTA) provide standardized subsea connections where additional pieces can be added to form the distribution system's connections as required. Hydraulic Distribution Manifolds (HDMs) and flying leads are commonly connected to the SUTA and are used to complete the path to Subsea XTs/SCMs.
Other supportive pieces are used throughout to ensure the signals are routed and conditioned as required. In-field or step-out umbilicals may also connect to SUTAs and HDMs to bring in subsea developments that are a measurable distance away, combining fields to a common tie back.
Subsea Distribution Systems include but are not limited to:
Static/Dynamic Umbilical
TUTA - Topside Umbilical Termination Assembly
SUTA - Subsea Umbilical Termination Assembly
UTH - Umbilical Termination Head
Hydraulic Distribution Manifold (HDM)
Electrical Distribution Manifold (EDM)
Flying Lead
Hydraulic Loose Steel Tube Flying Lead (LSFL)
Hydraulic [Hose] Flying Lead (HFL)
Electrical Flying Lead (EFL)
Optical Flying Lead (OFL)
Configuration Hardware
Logic Cap
Jumpers
Remediation Hardware
Subsea Accumulator Module (SAM)
Subsea Hydraulic Intensifier (SHI)
Intermediate Logic Cap (ILC)
Intervention Logic Cap
Reliable Experience
Koil Energy can reliably offer Subsea Distribution Systems that exceed client requirements by leveraging our vast knowledge and experience, clever and practical designs, and in-house fabrication, testing and commissioning capabilities. We install and commission Subsea Distribution Systems and therefore develop products that are installation and user-oriented. We also utilize robust standardized designs or adapted bespoke designs where appropriate, ensuring the final solutions meet client specifications.
In-house fabrication of carbon steel structures and specialty alloy tube welding allows for finite control of the manufacturing process and infinite design options. Stocked materials and standing procedures ensure we can support fast schedules and strict budgets. All testing capabilities are contained within the Koil organization.
Offshore installation management and commissioning can also be provided, allowing Koil to provide a turn-key Subsea Distribution System.
Speak with an integrated systems expert