Umbilical Termination Assembly
Thoroughly Tested. Expertly Installed.
Our Umbilical Termination Assemblies (UTA, SUTA, UTH, SUTH) terminate umbilical lines and provide one or more connections for hydraulic, chemical, electrical and fiber optic services. Koil Energy UTAs can be designed as either mud mat based, stab-and-hinge or vertical and can be customized to fit your purpose. Every design has our integrated junction plates that allow our Moray® Termination System or any other commercially available termination head to connect directly to the UTA.
Koil UTAs spool easily onto carousels or reels and preparations to overboard or mount on mud mats are simple, thus offering maximum flexibility and shorter installation times. A compliant version allows for an increased number of hydraulic positions and yet is still able to be placed on carousels and reel due to its flexible nature.
As with all of our products, our Subsea Umbilical Termination Assemblies are thoroughly tested, built to withstand the harshest environments, and can be installed by our expert offshore teams.
Featured Products
Bend Limiters
We manufacture our bend limiters in both polyurethane and steel to fit any flexible flowline, umbilical, cable or flying lead. Designed and manufactured to customer specifications based on the minimum bend radius, outer diameter of the product they are encompassing, and the static and dynamic loads, these bend limiters provide excellent protection for limiting the bending radius of the product.
The steel bend limiter design is capable of handling large loads and includes a simple, reliable hinged attachment system that significantly reduces installation time. Polyurethane bend limiters provide similar support for smaller diameter umbilical, cables and flying leads.
Bend limiters usually comprise a number of interlocking elements which articulate when subjected to an external load and lock together to form a smooth curved "locking" radius. This radius is chosen to be equal to or greater than the minimum bend radius of the pipe that it is applied to. Once the elements have locked together, the bending moment present is transferred into the elements and back through a specially designed steel interface structure into the adjacent rigid connection, therefore protecting the pipe from potentially damaging loads.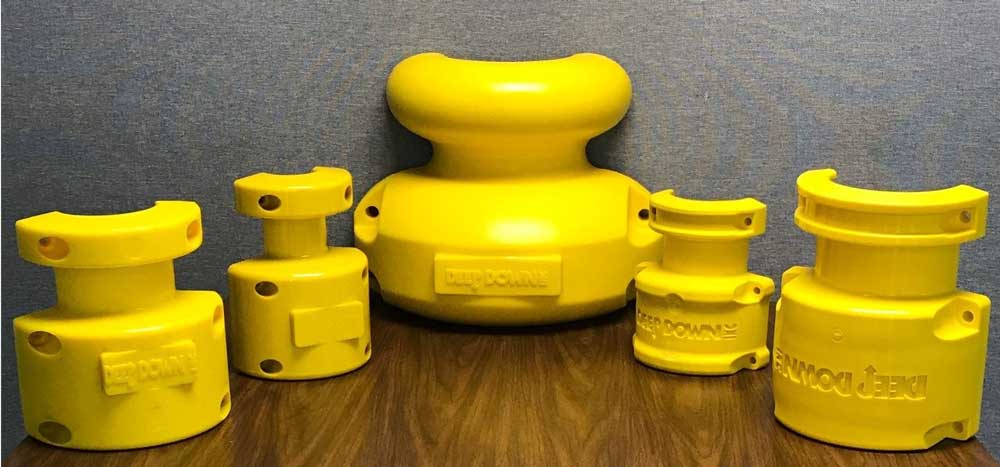 Bend Stiffener Latcher
Our proprietary Bend Stiffener Latcher (BSL) is designed to secure a dynamic umbilical to an existing or standard flange offering significant cost savings and without the need for modification to the i-tube or the use of divers. The quick-release and locking mechanism allows a single ROV to engage or disengage the locking mechanism resulting in significant savings.
Engineered to handle the ever-increasing cyclic loads and bending moments in ultra-deep-waters, the BSL is capable of handling high load transfers for bending moments up to 350,000 ft lbs. The BSL can accommodate bend stiffeners behind the male stab, making engagement of the bend limiter into the mating bell mouth quicker and more efficient. After latching the BSL, an ROV can release the armor pot allowing the bull-nose and umbilical to be pulled upward through the remaining length of the i-tube and set on the topside hang-off flange.
With no kink point between the bend stiffener and the bull-nose and no protrusion under the hull, the BSL prevents potential damage during tow out, providing significant savings through equipment protection.
Benefits:
Divers can be excluded from all phases of the project
Designed to handle ever-increasing cyclic loads and bending moments in ultra-deepwater
Manufactured to any size specification
Has no kink point between bend stiffener and bull-nose
Requires only standard flange on the end of the i-tube
J-Bellis insert attaches to split flange groove with rigid dogs – higher strength and more compact
No bell mouths required in precision pull-ins of today
Potential damage during tow out is prevented as assembly doesn't protrude under hull.
Features:
Quick-release locking mechanism
Single ROV engagement
Single screw operated retractable dogs share bending moment
Multiple dogs allow for 50% attachment and still considered latched
Umbilical Splice-Compliant
Koil's patented compliant umbilical splice provides customers with the option to repair damaged umbilicals or join two umbilicals together into a single umbilical. Our solution effectively extends the life of existing umbilicals and prevents our customers from incurring further field development costs and time delays.
Benefits:
Capable of housing electrical and fiber optic field installable termination assemblies (FITAs)
Can join two umbilicals and still spool onto a reel or carousel.
The optional mud mat assists in carrying the splice over a chute and keeps the splice off the sea floor for easy inspection
Bend restrictors are installed on either side of the splice to prevent excessive bending.
Guarantee your performance