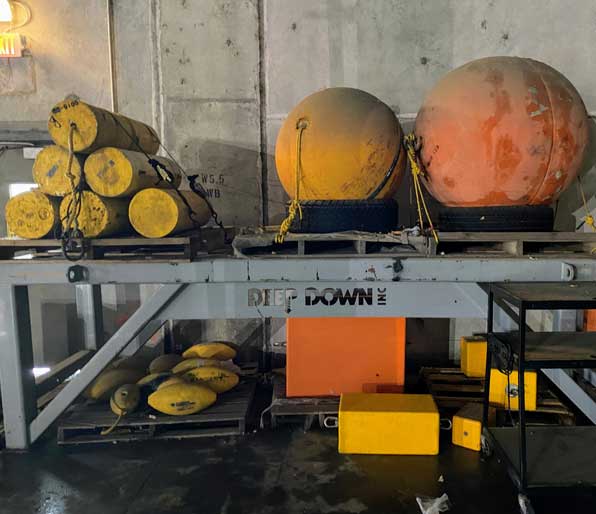 Buoyancy Modules that Fit Your Needs
We have a large inventory of buoyancy modules available for rent or purchase. We have the ability to provide a range of configurations to ensure that there is a shape and size that is best suited for your project.
Construction
Each buoyancy module is made from syntactic foam with a protective fiberglass or polyethylene outer layer. This enhances durability and minimizes the need for inspection and maintenance. The combination of multiple modules to meet specific buoyancy requirements without the need for one-off manufacturing reduces cost and allows for multiple uses during the installation program.
Customization Available
We can also manufacture customized buoyancy modules to meet customer requirements or integrate buoyancy into any piece of equipment. Typically used as an installation aid between subsea structures and a surface platform or vessel, buoyancy modules are a vital piece of equipment that can make a real difference to the success of your operation.
As a well-established manufacturer, we aim to provide practical, cost-effective subsea buoyancy modules that give reliable, high-grade service.
| Shape | Dimensions | Coating | Buoyancy (Lbs) | Depth Rating (M) |
| --- | --- | --- | --- | --- |
| Cylinder | 39"L x 12"D | Fiberglass | 75 | 2,500 |
| Square | 24"L x 24"W x 12"H | Fiberglass | 142 | 2,500 |
| Square | 26"L x 26"W x 16"H | Fiberglass | 200 | 2,000 |
| Rectangle | 18 ¼"L x 18 ¼"W x 38"H | Fiberglass | 200 | 2,000 |
| Rectangle | 18 ¼"L x 18 ¼"W x 47 ¼"H | Fiberglass | 250 | 2,000 |
| Cube | 22"L x 22"W x 22"H | Fiberglass | 250 | 2,000 |
| Cube | 25 ½"L x 25 ½"W x 25 ½"H | Fiberglass | 250 | 2,500 |
| Drum | 37 ¼"L x 28 ¼"D | Polyethylene | 250 | 2,500 |
| Cube | 25 ½"L x 25 ½"W x 25 ½"H | Fiberglass | 250 | 3,000 |
| Drum | 55 ¼"L x 39"D | Polyethylene | 1,270 | 1,200 |
Guarantee your performance