Subsea Fluid and Power Distribution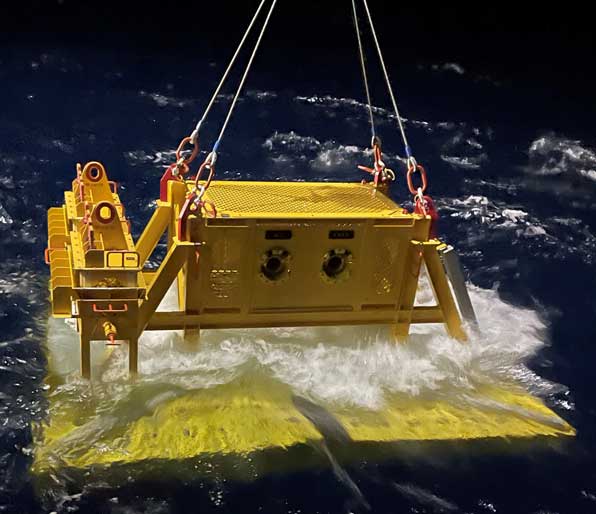 Patented solutions
Koil engineers offer creatively engineered subsea connectivity solutions that you won't find anywhere else. Our flagship product is the patented LSFL® (Loose Steel Tube Flying Lead) and at both ends of it is our Moray® Termination System. Add to that our Subsea Accumulator Module (SAM) and you've got subsea fluid and power distribution systems for any challenge.
Our Subsea Fluid and Power Distribution systems include:
Electrical Distribution Units
Hydraulic Distribution Manifolds
Intermediate Logic Caps
Moray Termination Solutions
Subsea Accumulator Modules
Moray® Termination System
Our patented Moray Termination System provides for a standardized, rapidly configurable, robust and reliable umbilical termination head (UTH) for the construction of hydraulic flying leads and compliant umbilical terminations. The Moray Termination System is highly configurable and supports any combination of steel tubes, thermoplastic hoses, electrical and optical cables. Additionally, the Moray Termination System is compatible with any commercially available Multi-Quick Connect (MQC) plate interface.
The Moray framework, mechanical strength termination and articulating vertebra bend limiters are designed to withstand up to 10 tons of axial load making the termination system ideal for compliant umbilical terminations, steel tube flying leads and thermal plastic hose flying leads. For flying lead applications, the patented protective over-hose assembly attaches to the bend limiter assembly eliminating hose bunching and splice breakage that can lead to tube exposure and kinking. The protective over-hose assembly serves as a secondary strength element and is rated for a 10-ton axial load and can be supplied in lengths in excess of 1,000 feet.
Koil Energy continues the evolution of the Moray Termination System by offering integrated 250 lb. uplift buoyancy module covers. This new addition to the Moray Termination System eliminates rigging and reduces the complexity of lead makeup to a single ROV pass at each end of the flying lead. The integrated buoyancy module is designed to accommodate two auxiliary 60′ flying leads with connector parking stands. The buoyancy cover accepts all commercially available optical, electrical and hot stab interfaces. Integrating communications or auxiliary hydraulic functions into a single flying lead is more cost-effective from both a manufacturing and installation standpoint. An ROV simply needs to make a single pass to connect up to three systems at a time as opposed to making three separate passes.
We've supplied over 200 Moray Termination Systems integrated into compliant umbilical terminations and flying leads for over a decade without a failure.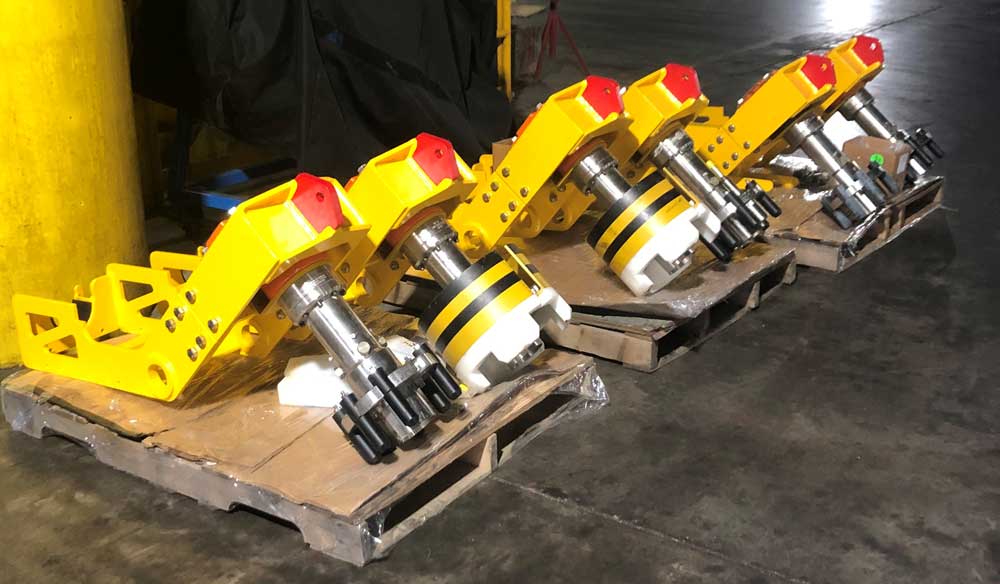 Subsea Accumulator Module (SAM)
Our Subsea Accumulator Module (SAM) is designed to provide customers with a multifaceted subsea tool to address cathodic protection (CP) and provide a subsea reservoir. Consisting of a Subsea Deployment Basket (SDB), built-in steel flying lead, J-plate and Remote Operated Vehicle (ROV) panel, the SAM has a compact design that allows for rapid transport without the need for permits.
The SAM is pre-charged with pressurized control fluid enabling plug-n-play subsea accumulation capabilities to augment the existing subsea distribution control system with localized volume and pressure control features. An ROV can guide the steel flying lead from the SAM and connect it to a hydraulic connection panel. Additionally, a funnel serves as a protective cage for product when in the stowed mode, and integrates flying CP grounding cable with clamp that is ROV installable to provide additional CP protection to subsea structures. The SAM can carry additional anodes based on customer requirements.
Dimensions
During shipping: 8′ x 8′ x 8′
During installation: 12′ x 12′ x 8′
During spooling: 13.5′ x 13.5′ x 8′
Length of flying lead: 100′
Height of valves on SAM from seafloor: approximately 6′
Weight: approximately 8,700 lbs
Net uplift of Moray head: approximately 25 lbs. (maximum water depth 8200′)
Moray Head
End Effecter: Class IV
Torque: 215 ft/lbs (to mate)
Turns: 11 turns
SAM Valves
End Effecter: Class II
Torque: 150 ft/lb max (300 ft/lb damage)
Guarantee your performance